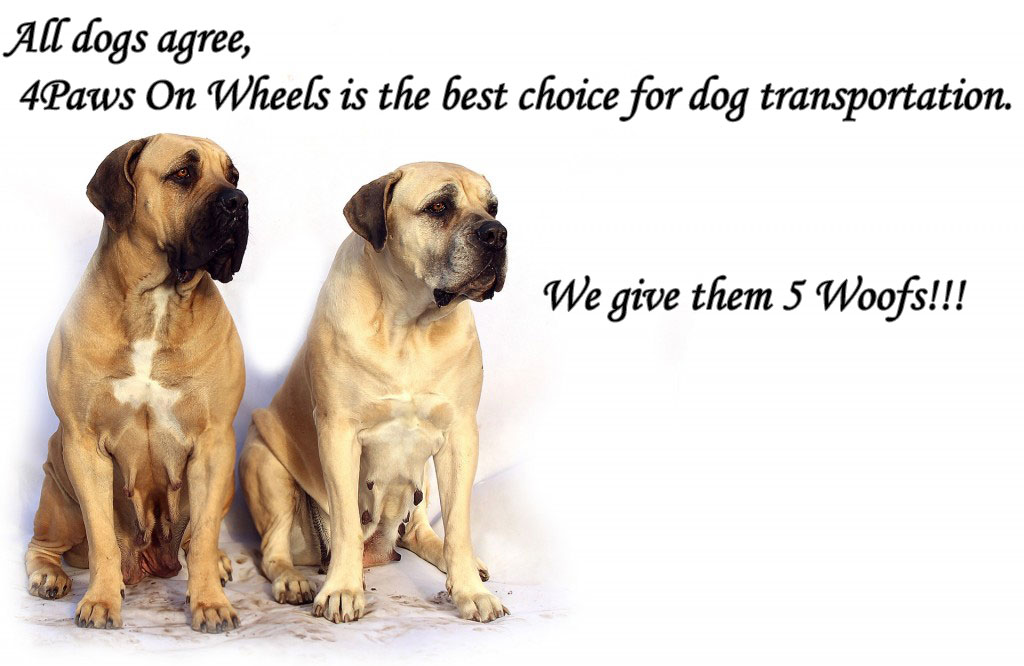 ---
Karen M. – Oct 21, 2015
Thanks, Mike! Our two dogs and two cats journied with Mike from Austin, TX to Christainsburg, VA. They showed up safe and sound, just as if they had not made that long journey. Would highly recommend Mike to anyone needing safe transport for their furry family.
Karen
Matthew S – Sept 13, 2015
Mike drove my dog from North Carolina to San Diego, and made it here fast! My dog rode shotgun the entire way, and was so spoiled. Mike sent me pictures along the way of her curled up sleeping and enjoying the trip. We spoke on the phone and texted just about every day. The price was very reasonable, and I would definitely recommend Mike and would surely use him again. Thank you very much!!
Bill – Sept 13, 2015
Bill and Kim Leutbecher
We hired Mike to transport our new 10 month old adopted Anatolian Shepherd. I searched and searched till 4paws. Mike answered the phone and all my questions and I felt really good so we hired him. He updated us everyday along the 3 day trip from Arkansas to California and responded to phone calls and texts every time we reached out! Our new girl arrived and we couldn't be happier, mike did a good job and we would hire again for his services. He wasn't the cheapest but it was all about the comfort level I had talking with him.
Thank you again Mike and 4Paws!
Bill, Kim Duke and Daisy
DAN BECKWITH – July 6, 2015
To whom it may concern.If you are thinking of using Mikes services don't hesitate. I just had a rescue Weimaraner picked up in Texas and delivered to Maine. Very good service Mike always answered my calls or got right back to me. Kept in contact the entire trip so I knew the condition of my dog and where they were..Thank you very much Mike and Norman.. Thanks DAN
Ellen Brown – Jun 29, 2015
Dear Mike,
June 29, 2015
We have used 4 Paws on Wheels several times to transport our beloved two pets from Miami to New York and back. Mark has been the driver and our dog's companion for the drive. He is great with our very large , active Old English Sheepdogs and keeps us updated throughout the trip. We have used other services including air travel but now are using Mike and 4 Paws on Wheels.
Miki Orr Ferretti-Busse – June 8, 2015
Mike Newkirk was awesome handling my 2 German Shepherds and 2 cats! As a matter of fact, the dogs acted like they didn't even miss me when I saw them for the first time in 2 1/2 days! The obe dog Hooch went to Mike after I walked her as if she was hus dog.
Mike checked in with me several times daily!
I would strongly recommend 4 Paws On Wheels to everyone who requires animal relocation! All animals arrived safe and sounds with little noticeable stress.
Bob Payne – May 29, 2015
I have used Mike Newkirk's 4Paws on wheels for several years to transport my dogs both big and small from Virginia to the Coachella Valley,(Palm Springs) area maybe 7 to 10 trips. I have nothing to say but his service is top notch. Everybody associated with the service are very nice and the dogs are their first priority. They have always arrived clean, healthy and full of excitement to be home. His prices and conditions are much better than other pet transporters, I have used in the past. He also keeps you updated by e-Mail or phone. Customer service is excellent.
Bob
Ellen Gannon – March 18, 2014
Hi Mike, My dog was just delivered to me in perfect condition, he was clean, not hungry and had been walked recently. I found the driver to be polite, friendly, and caring. He made sure all the dogs property was delivered into my house and that he was alright. Again, thank you for the wonderful service and I will be sure to use you again, if the occasion ever arises, and will mention your service to all my friends.
Again thank you,
Ellen Gannon
Melrose, FL